"Train up a child in the way he should go: and when he is old, he will not depart from it." Proverbs 22:6



Welcome to the resource page of the Dormitioninconcord.com, a site of the Genuine Orthodox Church in America. This page is designed for parents and teachers who strive to rear their children and students in a God-pleasing manner.





Orthodox England. Fr. Andrew Philips has gathered and published hundreds of pages on saints of the West, including saints of England, Ireland, Scotland, Wales, France, Spain, Scandinavia, and Germany. He has posted services and commemoration calendars.

Lives of the Saints. An outstanding set of links to online collections of the lives of the saints, including western, Russian, Serbian and Georgian.

Internet Medieval Sourcebook Wow, this website has come a long way since I discovered it back in the late 1990s. A huge collection of links to lives of saints available online.

Lives of Women Saints. An index to lives of women saints at the Antiochian website.

Orthodox Saints of Britain and Ireland A big collection of lives of British and Irish saints with their icons. You can also find several lives of continental saints here.

Orthodox Saints of America A collection of lives of the Saints for the enlighteners of America.

Saint Pachomios Library The St. Pachomius Library is a Greek Orthodox project to put Byzantine texts on the internet, including many saints' lives.

Holy Women of Byzantium Ten lives of women saints, including St. Mary of Egypt, St. Matrona, and St. Thomais, originally published in print by Dumbarton Oaks and now available as PDFs for free.

Dumbarton Oaks A bibliography of Byzantine saints' lives available in English translation.

Elder Ambrose of Optina. Stories excerpted from the life by Fr. Sergius Chetverikov, translated and published by St. Herman of Alaska Press.

Elder Nektary of Optina. Stories from Sergei Nilus and Bishop Alexander Mileant.

St. Philaret of New York. A blog dedicated to this great saint of our land and era. Lives, sermons, photos, and just about anything else you might want.

St. John Maximovich of Shanghai and San Francisco. The cathedral where his relics are treasured, Holy Virgin Cathedral Joy of All Who Sorrow in San Francisco, has posted his life, services, and testimonials of his miraculous help. ***You can also request prayers and holy oil here.***

Grand Duchess Elizabeth. A sermon on her life by Metropolitan Anastassy.




Iconography and Illuminated Manuscripts

All Merciful Saviour. The Western saints icon project has collected icons from all over the web for dozens of saints.

The Lindisfarne Gospels. Leaf through a selection of the most beautiful pages at this British Library site. You can also read an introduction about the Lindisfarne Gospels and visit a virtual exhibition about this wonder of sacred art and the Celtic monastic culture that produced it.

Holy Image, Hallowed Ground: Icons from Sinai A virtual exhibition of icons from Sinai at the J. Paul Getty Museum in Los Angeles.

Icons from Mt. Sinai A big gallery at Wikimedia Commons.

Saint Gregory of Sinai Monastery The Monastery Icon Workshop specializes in egg tempera panel icons, fresco painting, and mosaics.

Icons from the Tretyakov A gallery at Wikimedia Commons.

Sainte Russie. A virtual exhibition of Russian icons from the conversion of Russia to the time of Peter the Great, by the Louvre.

Mosaics at Chora Many wonderful photos of these stunning icon mosaics.

Mosaics at Monreale, Sicily. A gallery of the Old Testament mosaics at this twelfth-century cathedral.

Byzantine Mosaics and Other Treasures. This link brings you to the search page at the Web Gallery of Art; choose "mosaic" in the "form" box to find all the Byzantine mosaics from San Marco in Venice, the Palatine Chapel in Sicily, the Cathedral of Monreale in Sicily, and other treasures.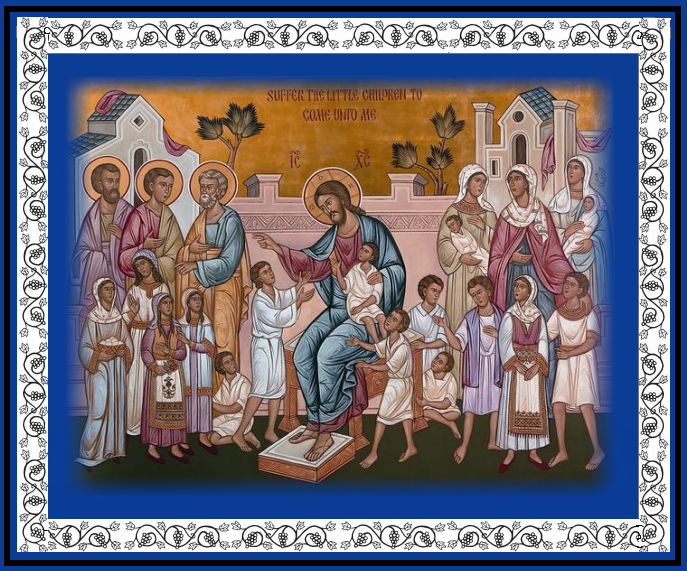 Come, ye children, hearken unto me: I will teach you the fear of the LORD. Psalm 34:11

OCA Department of Christian Education. The best all-around resource for homeschool and church school teachers for icon line drawings, Bible stories, and curriculum ideas and support.
Let Us Attend. No church school in your parish? Or need some simple materials for all ages to get a church school started. Or just want to do a little church school at home with your kids? The Antiochians put together a packet for each Sunday gospel (the archives have past years), including lessons for six different age groups and an icon line drawing. Just print.
Phyllis Onest. Here's a treasure trove of ideas, printables, and other resources posted by the Director of Religious Education for the Greek Archdiocese Metropolis of Pittsburgh Office of Religious Education.
Orthodox Education. Beautiful printable resource pages and packets to use at home or in church school or summer camp, created or compiled by Eleni Marie.
Under the Grapevine Podcasts of many Orthodox children's books by Dr. Chrissi Hart on Ancient Faith Radio. This is a great resource for previewing books you are not sure you want to buy, or for using as "books on tape" with your children.
St. Nicholas Center All things St. Nicholas, including stories, crafts and recipes for celebrating his feast.
Stores: Book Stores and Orthodox Items
St. Nectarios Press. Yes, their website is clunky, but they have the best and most thorough collection of Orthodox books on the web.
Orthodox Christian Craft Supply. Craft kits for home or church school.
Quiet Light Candles. Votive, tealight, pillar and specialty candles handmade from 100% pure beeswax with the best possible wicks, by the sisters of the Convent of the Meeting of the Lord.
Apostoliki Diakonia. Bookstore for Liturgical texts.
Analogion A complete list of services for the entire year. Includes daily services, Pentecostarion,, Triodion, and Menaion.
Archondarikion A series of links to services throughout the year. The audio quality is quite good and with the use of a plugin, such as "Download Them All", one could download the audio in MP3 format.
The General Menaion. The Services presented here may be used in place of a Menaion Service, if the Menaion service is not available.
Saint Jonah. Can't make it to church, or want to supplement your visits to church with services at home? This incredible site has all the liturgical texts you need. Just print them out and away you go.
Sacred Music Library. Another incredible compilation at the Antiochian website.
Western Saints
Services to many saints of the British Isles and western Europe posted at Orthodox England.